UFPA ❤s Students
UFPA's goal is not only to entertain, but also to enrich the lives of students during their time here in Gainesville. In an effort to reach out to students and provide them with exceptional opportunities to experience the arts, we offer specially priced student tickets, internship opportunities, student memberships, and more.
Stay Connected
Follow UFPA for the latest news, announcements, and promotions!
Facebook | Twitter
---
UF Student Tickets
University of Florida Performing Arts offers discounted tickets to UF students to many performances during its season. Ticket prices range from $12-20 for UFPA-presented events.
HOW TO PURCHASE STUDENT TICKETS:
Purchase tickets in person with your valid Gator1 card at the Phillips Center Box Office by calling 352-392-2787 or 800-905-2787, or tickets.performingarts.ufl.edu/Online. Limit one ticket per performance. Tickets will only be sold for performances in the current on-sale period (see below). Students may not purchase tickets with Gator1 cards that are not in their name. The Gator1 card used for purchase must be presented for entry to performance and must say "STUDENT" on it. Spouse, Staff, and Faculty IDs will not be accepted.
Please note: The Gator1 card used for purchase must be presented for entry to the performance.
STUDENT TICKETS ON-SALE DATES:
If you have any questions, contact the Phillips Center Box Office at 352-392-2787 or 800-905-2787.
2023|2024 UFPA Events : August 26 at noon
UF Student tickets for all UFPA events will go on-sale beginning August 26 at noon (along with our general public on-sale).
Non-UF Students:
All Non-UF Student balcony discounted tickets (Santa Fe, etc.) will follow the same schedule.

University of Florida Performing Arts is supported in part by University of Florida Student Government.
---
UFPA Internships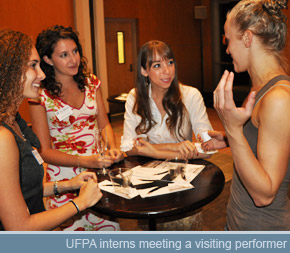 An internship with University of Florida Performing Arts is a wonderful opportunity to learn, network, and gain real-life work experience. Each semester, interns have the opportunity to work in the various departments of UFPA, from administration to development, marketing to operations. The dynamic and team-oriented nature of UFPA allows interns to work in a variety of areas, providing a broad and valuable experience.
UFPA internships are semester or year-long commitments. You will be expected to commit 10-15 hours per week. Work hours are flexible and agreed upon with your supervisor at the start of your internship.
If you are interested in having your internship count for class credit, please check with your college for more information. Previous UFPA interns have received credit from the Colleges of Journalism and Communications, Health and Human Performance, and Liberal Arts and Sciences.
Please contact Derek Wohlust with any questions about UFPA internships.
Download an internship application.
---
Student Contributions
Become a UFPA Student Affiliate Member and receive exclusive benefits!
For an annual contribution of $25, you can:
Purchase all your discounted student tickets before the student ticket on-sale date begins.
Purchase up to two discounted student tickets (applies to UF students only) over the phone.
Attend one private intermission reception during a UFPA-presented performance.
Take a backstage tour of Phillips Center, University Auditorium, or Baughman Center.
Receive Members-only e-mail information about UFPA, special events, master classes, and upcoming performances.
Have your name listed as a Student Affiliate Member in performance programs distributed at all UFPA-presented events.
Just complete the online membership form. After clicking submit, you will be redirected to the UF Foundation's secure site to make your contribution to University of Florida Performing Arts. For more information about becoming a Student Affiliate Member, please contact UFPA's development department at 352-273-2480 or 352.273.2703 or members@performingarts.ufl.edu (please do not send payment information via email).
---