Ways to Give to UFPA
Membership
As a UFPA Affiliate Member, you'll help bring world-class programming to the Heart of Florida and to show our appreciation, we offer a variety of benefits to enhance your performing arts experience like priority handling of UFPA preseason ticket orders, priority seating, and advance notice of added performances throughout the season. Starting at just $50, there's a level for everyone.
Performance Sponsorships
Performance Sponsorships allow local businesses or individuals the opportunity to help underwrite the UFPA-presented production of their choice. Sponsorships provide a way for businesses to give back to the community and receive in return marketing, tickets to the performance and other exclusive benefits.
Endowments & Bequests
Invest for today, ensure the arts for tomorrow … endowments and bequests provide a future for UFPA. These unique, sustaining gifts enable UFPA to continue to bring artists from around the globe to our community and make this a culturally vibrant place to live and visit.
Or Direct Your Gift
AIM Together
AIM Together brings world-class performing artists from UFPA's season into health care settings to provide performances and interactive arts events to individuals who – due to illness, age, disability and challenging socio-economic and geographic circumstances – have little or no access to the arts.
Learn More »
Make a Contribution »
Chords of Color for a Cause
Chords of Color for a Cause™ is a series that features performing artists across multiple genres who are themselves cancer survivors or, have loved ones who they have supported through an experience with cancer.
Learn More »
Make a Contribution »
Partners Program
The Partners Program funds the distribution of free tickets to UFPA-presented performances to non-profit charitable organizations in the Heart of Florida region for the physically and mentally challenged, at-risk students and other underserved populations.
Learn More »
Make a Contribution »
General Operating Fund
Thousands of students and kids begin their artistic journey with UFPA. Help share your love of the arts with others today. Your contribution to our general operating fund helps support everything UFPA does to build the artists of tomorrow.
Learn More »
Make a Contribution »
---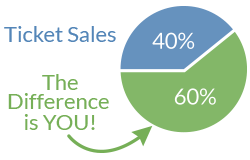 Did You Know?
Ticket sales only cover 40 percent of UFPA's operating costs in presenting the artists you see on our stages. Your personal investment makes the difference in sustaining quality programming for our community.
View the benefits available at each Membership level »
---
University of Florida Performing Arts would not be possible without the generous support of individuals and business from our community. Find out how your support impacts UFPA, the community, and you!
Priceless Experience
More than just entertainment, a live performance has the power to transform the audience. Commissioning and mounting new works allow innovative artists to create and share a new experience with your community.
Broadening Horizons
The greatest value of the arts is the ability to build bridges across generations and cultures. You have the opportunity to enrich your life, both personally and professionally, by experiencing the impact of arts in your community.
Economic Impact
UFPA enriches Alachua County both culturally and financially. Performers, artists' management and out-of-town production and technical crew utilize more than 1,500 room nights in local hotels throughout the season. On average 19 percent of our audience resides outside of Alachua County, resulting in more than $1 million of visitor impact. Local patrons also fuel the economy by utilizing businesses and restaurants prior to and/or after performances.
Arts for Future Generations
Your investment today inspires tomorrow's artists. Thousands of students experience the magic of the arts during free School-Day Performances. Master Classes and residencies offer students the opportunity to work one-on-one with artists.
Healing Through the Arts
The AIM Together program offers healing through the arts for patients and families by bringing world-class artists into health care settings with Shands HealthCare.
Accessibility of the Arts
UFPA believes the arts have no boundaries. The Performing Arts Partners program provides tickets to underserved populations who may not otherwise have access to cultural opportunities.