Five actors bring Macbeth to life. Well, maybe to death, but it's really quite a feat to behold. It is traditional Shakespeare performed in an inventive way.
But, make no mistake, this is not a new interpretation, this is Macbeth. Five incredibly versatile actors play multiple roles, weaving together dialogues, and switching between characters all while maintaining a clear narrative that is true to the original. It sounds like madness, but there's a method in it and it works.
Runtime: TBD. 15 minute intermission.
---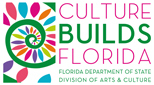 Sponsored in part by the State of Florida, Department of State, Division of Arts and Culture, the Florida Council on Arts and Culture, and the National Endowment for the Arts.